November Sweepstakes Contest Log 5.5 Now Available with Super Check Partial!
Hi All,
Just in time for this weekend's ARRL November Sweepstakes CW Contest....
November Sweepstakes Contest Log 5.5 is Now Available!
I have been receiving requests to add a Super Check Partial feature to my software, so I've worked up an implementation for the November Sweepstakes contest log. If you are unfamiliar with Super Check Partial, the idea is that as you start to type a call, all the similar calls of active contesters are displayed, which can help you to determine the call you are trying to work. You'll find lots more details on Super Check Partial here: http://www.supercheckpartial.com/
If you'd like to try the new Super Check Partial feature, from 5.5's menu options click Settings > Super Check Partial and check the check box to enable the feature. You can either display the data in the Possible Duplicates control, or on a separate, floating form that you can drag and resize wherever you like!
I am planning to add Super Check Partial to the rest of my software, but that will be a big job, so I'd really like to receive your feedback on this implementation first. Please give it a try and let me know how it works out for you!
For those of you who always write and encourage me to keep my software easy to use as new features are added, don't worry, my software looks, displays and functions exactly as it always has by default. You don't have to enable Super Check Partial if you don't want to.
As always, upgrades are free to registered users! Just uninstall the existing November Sweepstakes program following these steps:
http://www.n3fjp.com/upgradestepscontest.html
And then install the latest here:
http://www.n3fjp.com/novsweeps.html
Enjoy November Sweepstakes, the good band conditions and good luck on getting the clean sweep!
A Suggested Screen Layout for Multiple Forms
There are many ways to set up your display and this is just one option. For those of you who are enjoying the new Band Map features released in the last upgrades of all my software and now the new Super Check Partial feature, both with floating forms, here is an easy way to lay out your screen:
- From the menu options of the November Sweepstakes software, click Settings > Appearance > Form Size and enter 90.
- Close and restart the November Sweepstakes software.
- With DX Spotting enabled, press Ctrl E to display the Band Map
- Mouse over the band map, click the Vertical / Horizontal button so that it is vertical and then move the Band Map to the top, far right.
- Click Settings > Super Check Partial, enable the feature and select the floating form option.
- When the Super Check Partial form displays, drag the form and edges to resize it to fit the bottom of your screen.
Here is a screen shot: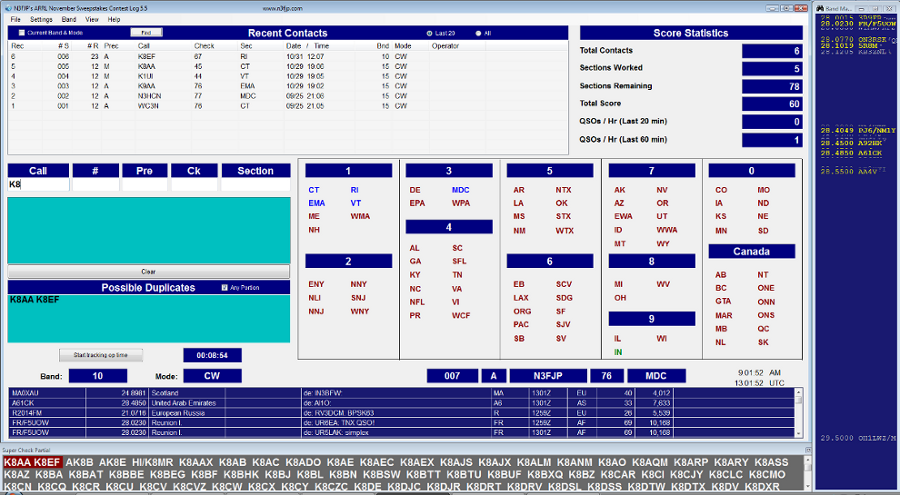 Red on the Super Check Partial window indicates possible duplicates. As more characters are typed in the Call field, the SCP list becomes more manageable.
In addition, with a form size less than 100, you can now drag the edges of the main form and the controls will reposition accordingly, This approach will not affect the font size, so choose a form size close to what you want to begin with. If you need to start over for any reason, enter a value of 100 for the form size to clear your manually changed height and width.
Again, for those of you who find this display too busy, want to keep things simple and just want to see the main form, that's fine! The single, main form will display by default, just as it always has. The rest is optional for you to enjoy if you ever decide you want to!
And in response to the questions we always receive when we neglect to include the following in our e-mail announcements...
Package Upgrade Information...
If you have registered one or more individual programs and would like to upgrade to N3FJP's Software Package or N3FJP's Software Package and CD for full use of all our Amateur Radio software, we would be glad to apply the amount that you have registered so far as a credit towards that purchase. Please send us an e-mail directly and we'll let you know your balance.
N3FJP's Software Package includes approximately 50 programs for contesting, net management, general logging and other Amateur Radio related applications. In addition to full use of all these programs, registered package customers are also entitled to receive free passwords for any new software that is added to the package and free upgrades to existing programs. You'll find all the details on the Register Now page at www.n3fjp.com.
Donations are Gratefully Accepted!
And in response to the often asked question for which Kimberly and I are very grateful...
"I know your upgrades are free, but I also realize how much time and effort coding these enhancements and new programs take and that your pricing policy doesn't fully reflect that. Can I send you something to show my appreciation for your continued efforts?"
Yes, thanks so much, your continued support in any amount is very welcome and deeply appreciated! You can use this page:
http://www.n3fjp.com/donations.html
or send your contribution by mail, payable to Affirmatech Inc., to:
G. Scott Davis
118 Glenwood Road
Bel Air, MD 21014-5533
Thank you so much for your continued support!
Thanks!
As always, thanks for your kind words, support, linking to our web site and spreading the word about our software. Kimberly and I really appreciate it!
73, Scott
N3FJP
http://www.n3fjp.com
Serving the Amateur Radio community with contesting and general logging software since 1997.

---