Two Corrections, SCP Update, Click & Pounce and More!
Hi All,
I have several miscellaneous announcement to share...
Two AC Log Corrections for 4.9.
I've made two minor corrections to AC Log 4.9 regarding eQSL comments upload formatting and conditions under which you can edit your fields displayed.
If you are an eQSL user and downloaded AC Log in the first few days of release, you may notice that your eQSL comments upload with additional characters surrounding the spaces of the comment you typed on the eQSL upload form.
Also, clicking Settings > Edit Fields Displayed requires AC Log to be at 100% form size, or your customized settings will not save properly. AC Log checked for the 100% value before allowing the customization to proceed, but did not check if the user had customized the height or width manually by dragging the edges with his mouse.
I've updated AC Log 4.9 to correct the eQSL comments upload and check for customized form sizing before allowing customization. If either of these items are important to you, simply uninstall AC Log 4.9 from Windows Control Panel and then reinstall 4.9, following the upgrade steps here: http://www.n3fjp.com/upgradestepsaclog.html
Super Check Partial Update
I've received lots of additional kind words on the new Super Check Partial feature following November Sweepstakes and questions from folks eager to find out when it will be in the rest of the contesting software. Super Check Partial is already in all the major ARRL, CQ, NCJ, etc. contesting programs that are on the website now! I still have to add it to the state QSO party programs, which will take a few more weeks, but I'm working hard on it and Lord willing, it won't be too long. Thanks so much for all your kind words on the new feature!
Watching Friends / Club Members Contest Progress in Real Time
Contesting is even more fun when you can see how your friends and club members are doing in real time! It's also quite motivating as the competitive juices get flowing!
Using the new Web Status Uploader feature that is now in all of my software, including AC Log, several folks in our local group and I are doing just that! We've set up a page on our local club site with links to each of our individual uploads for real time access. Each individual has two links. One for their AC Log and one for the current contest upload. To see how we set it up for our local club and our November Sweepstakes results, please click here: http://www.nemarc.org/memberlogs.html
E-mail Delivery
Kimberly and I have recently encountered a problem being able to e-mail folks who have yahoo.com, frontier.com and possibly other e-mail addresses. Apparently because we e-mail so frequently, Yahoo has either been placing our e-mail in folks spam folders or bouncing it back to us without delivering it at all. You may receive this announcement e-mail because yahoogroups uses a different sending address, but if you have a yahoo.com address, or any other address from which you are not receiving direct replies from:
Please contact your Internet Service Provider and let them know they are blocking e-mail that you want to receive from the above address. The receiving party has to make the request as ISPs won't respond to the sender's request.
Kimberly and I respond to all e-mail within 24 hours. Believe me, it is just as frustrating for us to take the time to write a reply, only to see it bounce, or receive a follow up e-mail from our users, thinking we are ignoring them, wondering why we haven't answered their questions, when we already have.
Click and Pounce
November Sweepstakes SSB was a great opportunity to take advantage of the new band map, the ability to scale the main form to fit the band map to the right and the ability to filter DX spots to exclude contest duplicates! Running 100 watts and mostly wire antennas (http://www.n3fjp.com/antennas/), my friend Dave, N3HCN and I wound up with the sweep and 610 Qs in the log. We ran frequencies when we could, but we spent a lot of time in search and pounce mode.
After a while, searching and pouncing can become a bit fatiguing, tuning from one QSO to the next, figuring out who is running the frequency, only to discover he is already in the log. So, instead of searching and pouncing, we started clicking and pouncing! We laid out the band map as in the screen shot below and set the SS software to filter out contest duplicates. Then, one band at a time, we clicked from one spot to the next, working our way down the band, until we worked all the current spots on the band. Then it was off to the next band. We managed to keep our run rate near 40 Qs per hour (and sometimes more) using this method. Most of all, it is much less fatiguing, since you know who's frequency it is, the call is already entered when you click on the spot and that the call isn't a duplicate. Run a frequency when you can, since your run rate will be much higher, but the click and pounce method is a great alternative when you can't!
Two things to be careful of with Click and Pounce. First, a significant percentage of DX spots have the call wrong in the posted spot. Make sure you hear the call for yourself and correct when needed. Second, not all calling stations are spotted, so don't give up while you are waiting for new spots to appear. Keep tuning!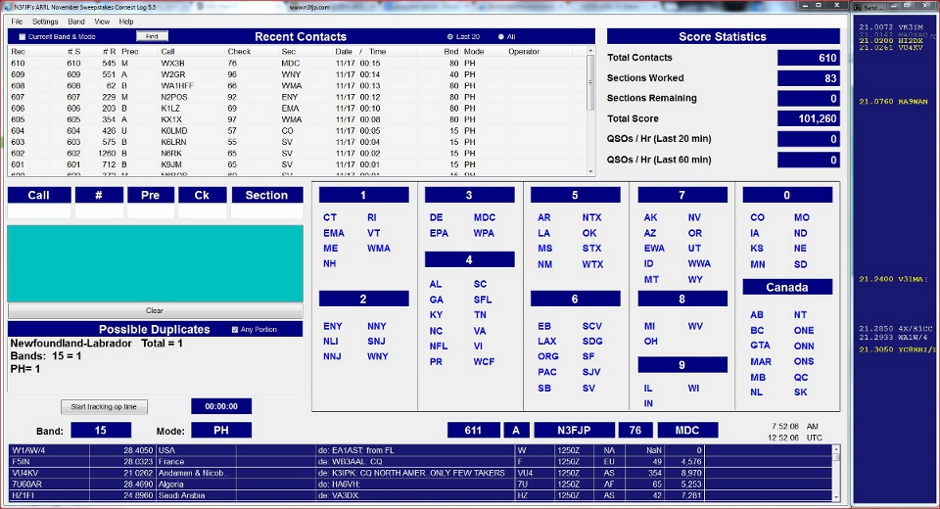 And in response to the questions we always receive when we neglect to include the following in our e-mail announcements...
Package Upgrade Information...
If you have registered one or more individual programs and would like to upgrade to N3FJP's Software Package or N3FJP's Software Package and CD for full use of all our Amateur Radio software, we would be glad to apply the amount that you have registered so far as a credit towards that purchase. Please send us an e-mail directly and we'll let you know your balance.
N3FJP's Software Package includes approximately 50 programs for contesting, net management, general logging and other Amateur Radio related applications. In addition to full use of all these programs, registered package customers are also entitled to receive free passwords for any new software that is added to the package and free upgrades to existing programs. You'll find all the details on the Register Now page at www.n3fjp.com.
Donations are Gratefully Accepted!
And in response to the often asked question for which Kimberly and I are very grateful...
"I know your upgrades are free, but I also realize how much time and effort coding these enhancements and new programs take and that your pricing policy doesn't fully reflect that. Can I send you something to show my appreciation for your continued efforts?"
Yes, thanks so much, your continued support in any amount is very welcome and deeply appreciated! You can use this page:
http://www.n3fjp.com/donations.html
or send your contribution by mail, payable to Affirmatech Inc., to:
G. Scott Davis
118 Glenwood Road
Bel Air, MD 21014-5533
Thank you so much for your continued support!
Thanks!
As always, thanks for your kind words, support, linking to our web site and spreading the word about our software. Kimberly and I really appreciate it!
73, Scott
N3FJP
http://www.n3fjp.com
Serving the Amateur Radio community with contesting and general logging software since 1997.

---