Band Map Enhancements in CQ WW 4.6 Now Available (In More Programs Soon)!
Hi All,
Additional Band Map Enhancements are Now Available in CQ WW 4.6!
I've enhanced the band map even more by adding the following features:
- Ability to zoom in on any section of the map as close as you like!
- Ability to set the map to to follow your rig's current frequency (with rig interface enabled)!
- Ability to see your rig's location on the map by a red dot (with rig interface enabled)!
To zoom in on a section of the band map, first click on the title bar or blue area of the form to give it focus. Then, put your mouse over the area of the map you want to zoom in on. Turn your mouse wheel forward (or use the + and - keyboard buttons). Move your mouse to a new location to update the target of the zoom. After scrolling, you can click on the Zoom label to enter a specific frequency range. To clear the zoom, scroll out, Right click the Zoom label or press Esc while the Band Map form has focus.
With rig interface enabled, to have the band map follow along with your rig's current frequency, click the title bar of the band map to give it focus. Then press F. The band segment will default to 50 KHz, but you can place your mouse over the red dot that indicates your rig's frequency and scroll your mouse wheel to narrow or enlarge the segment display. Alternatively, click on the Zoom label and enter two frequencies, which will define the range that will update as you change frequency on your rig. Tune your rig and the band map will follow right along!
Here is an example of the Zoom feature. Displaying the whole 10 Meter band, here is are what appear to be a few spots in a portion of the phone segment. The red dot on the right is my 756 Pro II's current frequency and many of the spots are overlapping: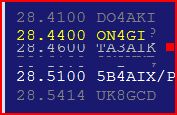 After clicking on a blue area of the form and placing my mouse over the center of the overlapping spots, I turn my mouse wheel forward to zoom in and reveal many more spots to choose from!

You can also click on the blue area and drag your mouse to update the zoom range. Remember, whether Autoscale is checked or not, you will not see any spots outside of the zoom range while you are in zoom mode. To clear the zoom, Right click on the Zoom label or press Esc while the Band Map form has focus.
I have just finished coding this feature. With CQ WW starting this weekend, I've added it to that program first. Lord willing, I plan to have the zoom enhancement in all the programs in the next few weeks (with ARRL 160 and ARRL 10 Meter Contest Logs at the top of the list).
As always, upgrades are free to registered users. You'll find the latest version of the CQ WW Contest Log with the new band map zoom enhancement for this weekend's contest here:
http://www.n3fjp.com/cqww.html
Enjoy!
And in response to the questions we always receive when we neglect to include the following in our e-mail announcements...
Package Upgrade Information...
If you have registered one or more individual programs and would like to upgrade to N3FJP's Software Package or N3FJP's Software Package and CD for full use of all our Amateur Radio software, we would be glad to apply the amount that you have registered so far as a credit towards that purchase. Please send us an e-mail directly and we'll let you know your balance.
N3FJP's Software Package includes approximately 50 programs for contesting, net management, general logging and other Amateur Radio related applications. In addition to full use of all these programs, registered package customers are also entitled to receive free passwords for any new software that is added to the package and free upgrades to existing programs. You'll find all the details on the Register Now page at www.n3fjp.com.
Donations are Gratefully Accepted!
And in response to the often asked question for which Kimberly and I are very grateful...
"I know your upgrades are free, but I also realize how much time and effort coding these enhancements and new programs take and that your pricing policy doesn't fully reflect that. Can I send you something to show my appreciation for your continued efforts?"
Yes, thanks so much, your continued support in any amount is very welcome and deeply appreciated! You can use this page:
http://www.n3fjp.com/donations.html
or send your contribution by mail, payable to Affirmatech Inc., to:
G. Scott Davis
118 Glenwood Road
Bel Air, MD 21014-5533
Thank you so much for your continued support!
Thanks!
As always, thanks for your kind words, support, linking to our web site and spreading the word about our software. Kimberly and I really appreciate it!
73, Scott
N3FJP
http://www.n3fjp.com
Serving the Amateur Radio community with contesting and general logging software since 1997.

---