Club Score Processor 1.0 Now Available & Very Cool VK2GGC CQ WW Video!
Hi Gang,
If you've ever wondered what it's like to operate CQ World Wide from Australia, this really cool video from the VK2GGC contest station captures the 2015 excitement beautifully! Not only does it include aerial shots of their rocking station, lovely imagery and display my software in action, there is even a Q with me about 3 minutes in! If you aren't already excited for this weekend's 10 Meter contest, you will be after watching this!
And speaking of the fun and thrills of club contesting...
Club Score Processor 1.0 is Now Available!
Club Score Processor is free software designed to add the current contest scores for all the individual members in your club and display the tally in real time, updating automatically throughout the contest weekend on a single web page. You can download Club Score Processor here:
Background:
It's really neat how one thing leads to the next! I originally added the FTP status upload feature to my contesting software with Field Day in mind, so that club members could see how their Field Day station was doing in real time when they were away from the Field Day site.
Before long, I started getting requests to add the status upload feature to all the contest programs. Soon folks, including our own club, the Northeast Maryland Amateur Radio Contest Society, started enjoying seeing how each club member was doing in other contests too. It really adds to the fun, camaraderie and competitive juices on contest weekends!
We quickly realized that instead of browsing to each individual upload to see how our club members are doing one by one, it would be even nicer to have all the essential information on one web page, with a current grand total club score displayed in real time! That thought was the genesis of this Club Score Processor software, which retrieves the pertinent information from each of the individual club member's web uploads, combines it and presents a total score and leader board!
Here's an example of our actual club page that this Club Score Processor created at the conclusion of 2015 November Sweepstakes SSB: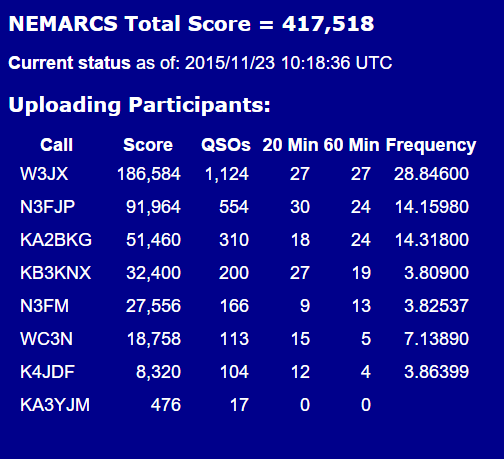 The total page will refresh automatically every 60 seconds, as long as one of your club members keeps this program running during the contest (it's okay to close and start the program again later if needed). When the program is closed, the web page will remain, but of course it will not have new data to display.
You'll find complete setup details on the download page here!
Even if you don't have a formal club, you and enjoy seeing how your friends locally are doing, or track anyone who is running my software with the upload enabled (even me). All you need is their URL!
And in response to the questions we always receive when we neglect to include the following in our e-mail announcements...
Package Upgrade Information...
If you have registered one or more individual programs and would like to upgrade to N3FJP's Software Package or N3FJP's Software Package and CD for full use of all our Amateur Radio software, we would be glad to apply the amount that you have registered so far as a credit towards that purchase. Please send us an e-mail directly and we'll let you know your balance.
N3FJP's Software Package includes nearly 90 programs for contesting, net management, general logging and other Amateur Radio related applications. In addition to full use of all these programs, registered package customers are also entitled to receive free passwords for any new software that is added to the package and free upgrades to existing programs. You'll find all the details on the Register Now page at www.n3fjp.com.
Donations are Gratefully Accepted!
And in response to the often asked question for which Kimberly and I are very grateful...
"I know your upgrades are free, but I also realize how much time and effort coding these enhancements and new programs take and that your pricing policy doesn't fully reflect that. Can I send you something to show my appreciation for your continued efforts?"
Yes, thanks so much, your continued support in any amount is very welcome and deeply appreciated! You can use this page:
http://www.n3fjp.com/donations.html
or send your contribution by mail, payable to Affirmatech Inc., to:
G. Scott Davis
118 Glenwood Road
Bel Air, MD 21014-5533
Thank you so much for your continued support!
Thanks!
As always, thanks for your kind words, support, linking to our web site and spreading the word about our software. Kimberly and I really appreciate it!
73, Scott
N3FJP
http://www.n3fjp.com
Serving the Amateur Radio community with contesting and general logging software since 1997.

---