AC Log 5.5, Contesting Program Updates, JTAlert Now Interfaces via API & More!
Hi All,
I hope that you are doing well! Software development has been on a roll at N3FJP Software headquarters this spring!
Amateur Contact Log 5.5 is Now Available!
The main enhancement that will be immediately evident is the new band map display. In addition to the existing color codes indicating time, I've added more font and color coding as follows:
- DX Spots where the entity is needed (Settings > New Contact & QSL Alert Options) is displayed in italics.
- DX Spots where the entity is needed AND the spot is an LoTW user (use the ID LoTW Users button on the LoTW set up form to enable) is displayed in Red italics.
In this example, E44YL, Palestine, is not confirmed on 40 CW in my log, she is not listed as an LoTW user, so her spot is italic. JT1CO, Mongolia is not confirmed on 40 CW in my log, he is included in the LoTW user list, so that spot will appear in red italic for the duration that it is displayed.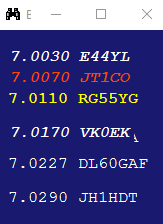 The new color and font coding makes it very easy to look at the band map at a glance and see which stations are needed for your DX awards goals! Please visit here for all the details on setting up DX Spotting.
As always, upgrades are free to registered users. You can download Amateur Contact Log 5.5 from this page.
If you are running AC Log 4.0 or later, don't forget to uninstall your previous version from Windows Control Panel first! Complete upgrade steps for Amateur Contact Log are here.
New Versions of All Contest Programs are Now Available!
I've updated all the contesting programs, including both in state and out of state versions of all the state QSO programs to include these enhancements (where applicable):
- Added Application Program Interface (API) functionality (Settings > Application Program Interface).
- DX Spots where the entity is a needed multiplier are displayed in italics (in programs where applicable - not in state QSO party programs).
- Added CW PTT to key linear amplifiers (Settings > Transmit > CW).
- Added ability to temporarily disable band and mode updates from rig interface (press Ctrl + Shift + R).
- Updated address label tags for Cabrillo output in compliance with the latest Cabrillo output specification.
- Press Ctrl + Shift + S for programs to read the next serial number (for blind hams in programs where applicable).
- Press Ctrl + Shift + H to hide the Horizontal / Vertical button on the band map (click a blue area of the band map first).
- Band and mode (based on frequency) determined by band plan file.
Some of these enhancements were in the previous release of the major contest programs, but now they have been integrated into the rest as applicable.
As always, these upgrades are free to registered users!
JTAlert Now Interfaces with N3FJP Software!
Laurie, VK3AMA has released a new version of his JTAlert, which interfaces directly with Amateur Contact Log via my new API! You'll find JTAlert here.
And in case you had any doubt about the importance of letting other software developers know of your interest in their interfacing with my software, Laurie, JTAlert's author included the following in an e-mail direct to me:
I underestimated the demand for ACLog support, given the large number of people who responded to my request for ACLog / JTAlert testers, otherwise I would have coded the support before now.
Cheers
de Laurie, VK3AMA
Thanks everyone who wrote Laurie and your interest in participating in his beta!
Please be sure to write other software developers, whose programs you would like to see interface with my software as well! It will only happen with your prompting! You can refer them to this page for all the Application Program Interface (API) specifications:
http://www.n3fjp.com/help/api.html
Field Day is Coming - Check Software Installation Off the List!
Field Day is just 9 weeks away! With all the other preparations on your "to do" list, now is a great time to check off the Field Day software installation. Have everyone bringing PCs install the latest version of the Field Day software.
And for folks new to my software, you can quickly get them up to speed by having them watch this Field Day quick start video here:
If you are planning to network (highly recommended), get the PCs together in advance to make sure you have the network set up properly as detailed here.
And in response to the questions we always receive when we neglect to include the following in our e-mail announcements...
Package Upgrade Information...
If you have registered one or more individual programs and would like to upgrade to N3FJP's Software Package or N3FJP's Software Package and CD for full use of all our Amateur Radio software, we would be glad to apply the amount that you have registered so far as a credit towards that purchase. Please send us an e-mail directly and we'll let you know your balance.
N3FJP's Software Package includes nearly 90 programs for contesting, net management, general logging and other Amateur Radio related applications. In addition to full use of all these programs, registered package customers are also entitled to receive free passwords for any new software that is added to the package and free upgrades to existing programs. You'll find all the details on the Register Now page at www.n3fjp.com.
Donations are Gratefully Accepted!
And in response to the often asked question for which Kimberly and I are very grateful...
"I know your upgrades are free, but I also realize how much time and effort coding these enhancements and new programs take and that your pricing policy doesn't fully reflect that. Can I send you something to show my appreciation for your continued efforts?"
Yes, thanks so much, your continued support in any amount is very welcome and deeply appreciated! You can use this page:
http://www.n3fjp.com/donations.html
or send your contribution by mail, payable to Affirmatech Inc., to:
G. Scott Davis
118 Glenwood Road
Bel Air, MD 21014-5533
Thank you so much for your continued support!
Thanks!
As always, thanks for your kind words, support, linking to our web site and spreading the word about our software. Kimberly and I really appreciate it!
73, Scott
N3FJP
http://www.n3fjp.com
Serving the Amateur Radio community with contesting and general logging software since 1997.

---