CQ WW DX SSB - ATNO in Amateur Contact Log!?
Hi All,
CQ World Wide DX SSB kicks off this Friday evening here in the USA (8:00 PM Eastern) and runs for 48 hours. Even if you don't consider yourself a contester, please jump in and give it a try!
CQ WW DX SSB is BIG and there is a smorgasbord of DX to work. Whether you want to test your station, you are going for a high QSO rate or you just want to get some new DX entities in your log, this is a super opportunity to make great strides towards your 5 Band DXCC award!
The contest couldn't be easier. Just exchange your signal report and CQ Zone. Complete rules are here.
My CQ World Wide DX logging software is here.
And please be sure to review the pre-contest checklist here.
Is the DX an All Time New One (ATNO)!?
Have you ever wondered, while contesting, if the juicy DX entity you are trying to work is already worked or confirmed in your Amateur Contact Log file? When contesting, in the heat of the fray, there's never been a quick way to check, until now! One of the many new features this year in N3FJP software is that you can now set my contest programs to query AC Log to find out! Here's How:
- From Amateur Contact Log 5.6 or later, click Settings > API and check the upper checkbox that says TCP API Enabled (Server). Leave the lower Client checkbox unchecked.
- In my CQ WW contest software, check the lower checkbox to Enable Entity Confirmation Check via API. Leave the upper Server checkbox unchecked.
That's all there is to it. Just bring up the CQ WW software, enter a call in the contest software's Call field (for an unconfirmed entity in AC Log) and press the space bar to tab. When you tab from the Call field in the contesting program, a status query will go out to AC Log via API to check the confirmation status and the result will be displayed in CQ WW contesting software's dialogue box, if unconfirmed!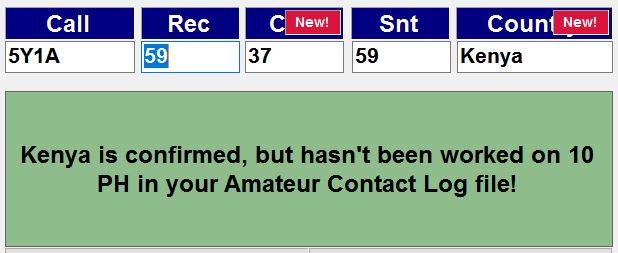 If you are running AC Log 5.6 or later, the alert options that will appear in the contest software include:
Entity is an All Time New One
Entity isn't confirmed on any band or mode
Entity is confirmed, but hasn't been worked on current band and mode
Entity is confirmed, but is unconfirmed on current band and mode
To use this feature, please keep Amateur Contact Log running, but it doesn't have to take up any screen real estate. Once configured, you can leave Amateur Contact Log minimized all weekend, so you can give your full attention to the CQ World Wide DX contest software.
If you want to give this new feature a try, please go ahead and set it up now, so you are all set before Friday evening rolls around!
Enjoy the contest everyone!
And in response to the questions we always receive when we neglect to include the following in our e-mail announcements...
Package Upgrade Information...
If you have registered one or more individual programs and would like to upgrade to N3FJP's Software Package or N3FJP's Software Package and CD for full use of all our Amateur Radio software, we would be glad to apply the amount that you have registered so far as a credit towards that purchase. Please send us an e-mail directly and we'll let you know your balance.
N3FJP's Software Package includes more than one hundred programs for contesting, net management, general logging and other Amateur Radio related applications. In addition to full use of all these programs, registered package customers are also entitled to receive free passwords for any new software that is added to the package and free upgrades to existing programs. You'll find all the details on the Register Now page at www.n3fjp.com.
Donations are Gratefully Accepted!
And in response to the often asked question for which Kimberly and I are very grateful...
"I know your upgrades are free, but I also realize how much time and effort coding these enhancements and new programs take and that your pricing policy doesn't fully reflect that. Can I send you something to show my appreciation for your continued efforts?"
Yes, thanks so much, your continued support in any amount is very welcome and deeply appreciated! You can use this page:
http://www.n3fjp.com/donations.html
or send your contribution by mail, payable to Affirmatech Inc., to:
G. Scott Davis
118 Glenwood Road
Bel Air, MD 21014-5533
Thank you so much for your continued support!
Thanks!
As always, thanks for your kind words, support, linking to our web site and spreading the word about our software. Kimberly and I really appreciate it!
73, Scott
N3FJP
http://www.n3fjp.com
Serving the Amateur Radio community with contesting and general logging software since 1997.

---