AC Log 7.0.3 and New Versions of All Our Contest Software Are Now Available!
Hi All,
We hope that everyone had a very Merry Christmas, Happy New Year and that you are enjoying a wonderful holiday season!
Having begun serving you with Amateur Radio software in 1997, I simply can't believe how quickly we've reached our quarter century milestone here in 2022! In addition to having Kimberly with me from the start, now that we also have the joy of sharing this adventure with our son Chris (who was 7 when this all started and now can code circles around me), Lord willing, I am more excited than ever for the future of our software!
Amateur Contact Log 7.0.3 and New Versions of All Our Contest Software Are Now Available!
Chris, Kimberly and I have some exciting new features to share with you! We know that many of you love our traditional default color scheme. That hasn't changed, but all our software now also includes an easily selectable, fully customizable Dark Theme option! To give it a try, just click Settings > Appearance > Reset Colors to Dark Theme. Here are a couple of examples:
Amateur Contact Log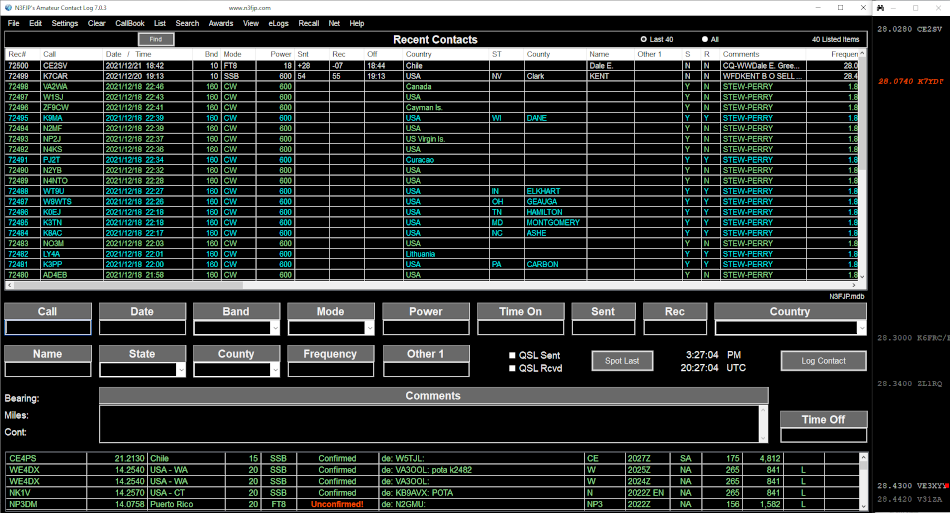 CQ World Wide DX Contest Log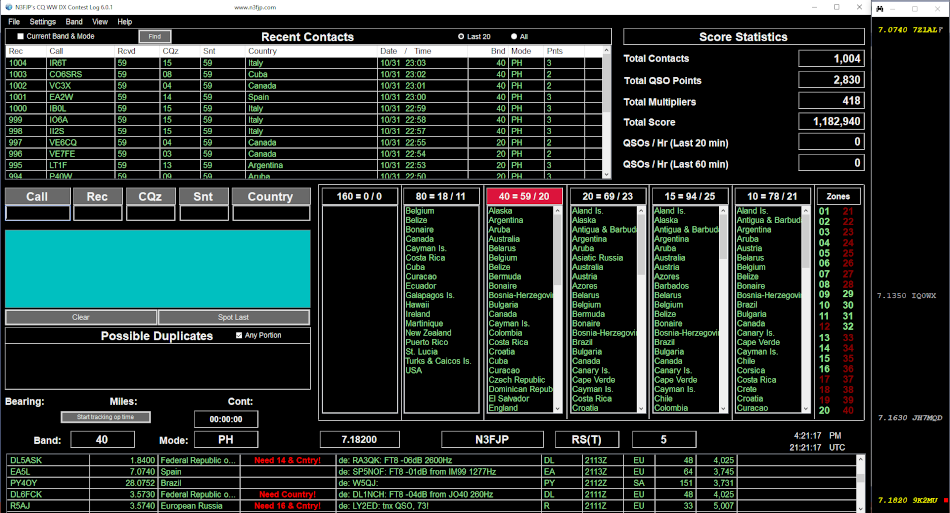 Being able to quickly transition to Dark Theme during night time operating sure helps give our eyes a rest, reduces fatigue and helps keep us in the chair longer. If you would like to further enhance the colors we've selected, you can modify them any way you like by clicking Settings > Appearance > Colors and Fonts.
In addition to Dark Theme, other new features that you'll find in this global release include:
- Ability to save color schemes. After clicking Settings > Appearance > Colors and Fonts and customizing the color scheme to your preference, you can save the scheme to easily recall in the same program, or use in different programs. Just click the Save Settings button at the lower left.
- Ability to set alternating backcolor on the main list, instead of being limited to the default backcolor.
- Option for 24 hour local time display in AC Log (Settings > Appearance).
- Rig interface for the Yaesu Newer and Newer 2 options: Added ability to check for the active VFO by using Yaesu's VS; command for rigs that support it, such as the Yaesu FT DX 10.
- Ability to disable beep when you are spotted (Settings > DX Spotting > Configure). This feature was already in the last release of AC Log, Now that it is also an option in the contest software, we moved the selection of this option to the DX Spotting setup form in AC Log for consistency.
- Added a SETOPINFO Application Program Interface command, to set various operator variables from the connected program. Details are here.
As always, upgrades are free to registered users. If you are currently running a version of our software released after January 2021, the program should detect the new upgrade and offer to retrieve it for you on start. If you have any problem with the automatic upgrade, or you are running an older version, you can install directly from the respective program's download page. You should not have to uninstall your previous version first.
Programs Modified for Rule Changes:
In addition to the features detailed above, we've modified these programs, at the request of the contest sponsors, to accommodate contest rule changes:
Winter Field Day Contest Log 2.8.1 (updated for new bonus point values).
Wisconsin QSO Party Contest Logs (in state and out of state) 4.5.1 (addition of digital mode option).
The free upgrade instructions, detailed above, apply here as well.
RSGB IOTA Contest Log is Now Available!
We have added support for the RSGB IOTA contest to our software suite! As always, new programs that we add to the package are free to registered package users!
If you are a package user and would like an updated password list to include our new RSGB IOTA software, please request your updated password list here.
And you will find the RSGB IOTA software here.
Winter Field Day and COVID-19 Rules Change Reminder!
Just a quick reminder that Winter Field Day is fast approaching! Similar to ARRL's Summer Field Day accommodations for COVID-19 restrictions, the Winter Field Day folks are also again enabling individuals to operate under their own call signs from their individual homes and have their points credited to their cumulative club score! All the details are in the WFD rules here.
If your club is planning to operate from your individual homes this year, please review these tips for enjoying the event together virtually, using our free Club Score Processor and other on line tools.
If your club is gathering together, you plan to use a network for Winter Field Day and haven't already done so, it's time to get all the PCs you'll be using together and make sure your network is all set. Complete details on networking our Field Day software using both File Share and TCP methods are here.
Please take a little time well before the contest, get your PCs together and your network up and running. As always, problems easily solved in a relaxed atmosphere can seem insurmountable when the clock is ticking!
And in response to the questions we always receive when we neglect to include the following in our e-mail announcements...
Package Upgrade Information...
If you have registered one or more individual programs and would like to upgrade to N3FJP's Software Package or N3FJP's Software Package and CD for full use of all our Amateur Radio software, we would be glad to apply the amount that you have registered so far as a credit towards that purchase. Please send us an e-mail directly and we'll let you know your balance.
N3FJP's Software Package includes more than one hundred programs for contesting, net management, general logging and other Amateur Radio related applications. In addition to full use of all these programs, registered package customers are also entitled to receive free passwords for any new software that is added to the package and free upgrades to existing programs. You'll find all the details on the Register Now page at www.n3fjp.com.
Donations are Gratefully Accepted!
And in response to the often asked question for which Kimberly, Chris and I are very grateful...
"I know your upgrades are free, but I also realize how much time and effort coding these enhancements and new programs take and that your pricing policy doesn't fully reflect that. Can I send you something to show my appreciation for your continued efforts?"
Yes, thanks so much, your continued support in any amount is very welcome and deeply appreciated! You can use this page:
http://www.n3fjp.com/donations.html
or send your contribution by mail, payable to Affirmatech Inc., to:
G. Scott Davis
118 Glenwood Road
Bel Air, MD 21014-5533
Thank you so much for your continued support!
Thanks!
As always, thanks for your kind words, support, linking to our web site and spreading the word about our software. Kimberly, Chris and I really appreciate it!
73, Scott, Kimberly and Chris
N3FJP, KA3SEQ and KB3KCN
http://www.n3fjp.com
Serving the Amateur Radio community with contesting and general logging software since 1997.

---