Every person on the SimplySolar e-mail group who builds a functional solar collector deserves to be on our wall of fame! You are moving the hobby / art / science of solar forward, helping the environment, preserving resources, saving money and encouraging others by your example. If you are on the SimplySolar e-mail group, please select and send me your one best picture of each collector project that you've completed with a very brief (no more than one line description) and I'll enthusiastically add it below! If you have a web page with additional information, include the link and I'll make the picture a hyperlink.
The following is sorted by first name, then last name, since that's the way most of us know each other on SimplySolar.
Bob Allan

8' X 8' Hot air collector in Ontario with plastic for glazing.
Doug Kalmer

Doug and Claudia designed and built their passive solar, earth sheltered home in the mid 1980's. It features an attached
solar greenhouse, and a PV pumped, closed loop solar hot water collector, masonry wood stove also heats water.

Doug with gravity solar hot water collector at bottom, and solar space heater above.
Kenneth Wers

Hand built fusion energy interceptor system "hydro solar collector" to heat my home and DHW in Minnesota.
Mike Hughes:

Coroplast collector in Texas
Rich Pauper:

Rich's batch solar water heater
Scott Davis:


24' X 13" aluminum downspout hot air collector - 2008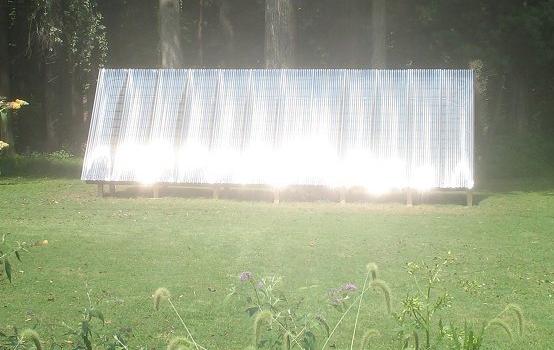 24' X 8' Pex collector
Scott Smith:


Hot air collector using aluminum downspouts 32.5' X 3'.
SimplySolar - Solar Forum and E-mail Groups!
It turns out that there are other folks like me who also enjoy sharing ideas and learning from each other's experiments! If you have an interest in brainstorming solar projects that are easy and inexpensive to build and neighborhood friendly, or want some help with a project that you have underway, please join us!
I originally set up an e-mail group - SimplySolar, for that purpose. The e-mail group has served us well, but with overwhelming growth and interest in the e-mail group, to better keep content organized and give members the option to easily follow only the threads that interest them, we have just set up a new Simply Solar on line forum! SimplySolar is about brainstorming and sharing ways to implement solar heat in easy ways that the average homeowner, who may not be much of a "do-it-yourselfer" (like me), can use to put money back in their pockets, green back in the environment and have a lot of fun along the way! If solar excites you, we would love to have you join our forum:
Click to visit or join the Simply Solar Forum
or subscribe to our e-mail group!
Thanks again for your interest in solar!
Sincerely,
Scott Davis