Rig - Computer CW Interface

Please Note:The newer versions of my software (released after 2012) only support CW keying via your serial port (or USB to serial adapter) and Winkeyer Winkeyer provides the most consistent timing as it functions independently of your PC's processor. Since parallel ports are no longer in general use, the parallel port keying is not supported in the new C#.NET rewrite. The parallel port references are still included below for those who are using the old, VB6 versions of my software.

We have added CW sending features including real time keyboard, pre-programmed strings and wild cards to all of the logging programs. To send CW using our software, connect your computer to your rig interface device via the computer's serial port or USB to serial adapter. The software uses either the RTS Line or the DTR Line of the serial port, or pin 17 of the parallel port to send the key down command. If your PC only has USB ports, you can still use the serial module with a USB to serial adapter. The adapters are available at stores like your local Best Buy.

If you would like to make your own interface, below are two schematics for building an interface using the RTS line. Any transmitter that uses a "connect to ground to key" jack can use either of these schematics. Thanks to Bob, N3UR, for providing these schematics!

Direct Keying Schematic
(Resistor value is 4.7k)

Optic Coupling Schematic
(Electrically separates the computer from the radio.)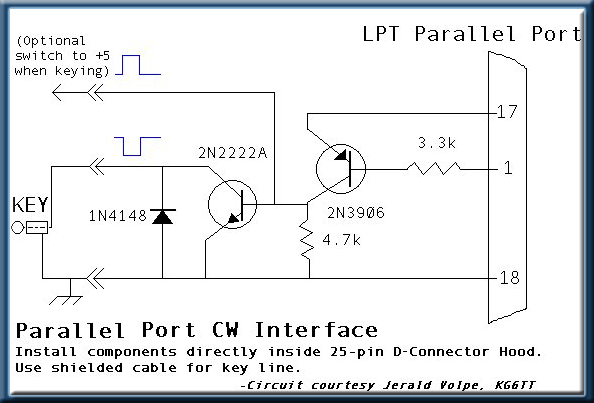 Parallel (Printer Port) Schematic


Please Note: Since parallel ports are no longer in general use, the parallel port keying is not supported
in the new C#.NET rewrite.

If you would like to purchase an interface, we have found a great supplier who is willing to help you out! W1GEE Products provides PC Serial Interfaces. The serial module has been designed to provide a hardware link to the transceiver from your computer's DB-9 serial port using the DTR (pin 4 of the DB-9 connector) lead as the active signal and SGND (pin 5) as reference ground.

Using N3FJP software programs, you can use the computer to replace the transceiver's straight key to send code. A separate key is no longer required; although one can be connected in parallel with the keying plug if desired. Please note that this unit replaces the STRAIGHT KEY. To function properly, you must turn off the transceiver's automatic keyer and plug the unit into the STRAIGHT KEY socket. Keying is accomplished by the tip and sleeve of the Keying Module plug in the same manner as a straight key would do.
Product Purchase Options

Purchase price for the PC Serial Keying Module is $25.00.

If you are purchasing via Cash, Check or Money Order, please add $5.00 for shipping/handling per order within the United States ($30.00 total).

Drop ship orders outside the US are shipped via Air Post. Please add $10.00 shipping/handling per order for international sales ($35.00 total).
Please send Cash, Check or Money Order payable to Affirmatech Inc. for purchase of this product. Please be sure to include your call sign and e-mail address with your request so we can process your order promptly! Please send your payment to the address below:
Affirmatech Inc.
G. Scott Davis, N3FJP
118 Glenwood Road
Bel Air, MD 21014-5533
To purchase by credit card via PayPal, please click an icon below. Please be sure to include your call sign with your order by clicking "Add" for Special instructions to the seller on the PayPal order form in the Shipping address section. After you complete your transaction, you will see a "Thank You" page, and PayPal will send you a Receipt of Payment in just a few minutes. When we receive Notification of Payment from PayPal, we will promptly send your password via e-mail. If you have not received a confirmation within 24 hours, please send us an e-mail. Your PayPal payment will be sent to:


A $5.00 shipping/handling fee has been added to the purchase price below for single US orders.

If you are ordering multiple products to be shipped to the same address, or you are located outside the US, please use the "Multiple or International" button below. When using this button you must list the items you are purchasing in the message section and enter the total amount + shipping/handling ($5 US to one address/$10 International).

These products are manufactured by W1GEE and will be shipped directly from him. Any questions regarding these products should be e-mailed to w1gee"at"yahoo.com.

---