Jamboree on the Air Log 2.3.5
(System Requirements - Windows 7 through Windows 11. XP and Vista versions here.)

Download Jamboree on the Air Log!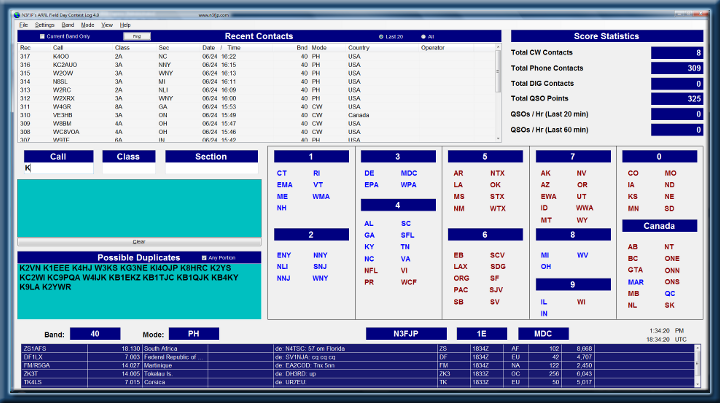 Image of Field Day software shown.
We've developed this free software to support the scout's Jamboree On The Air (JOTA) event. We've never operated JOTA and since JOTA doesn't have a defined exchange, we sought input from users. The varied suggestions more than stretched the limits of what one of our contesting templates could be morphed into, but we did our best. This program might not meet everyone's JOTA style, but feedback so far has been positive. Please give it a try and if you find it useful, enjoy it!
Jamboree on the Air Log Features:

Very easy and intuitive to use!

Lists all contacts.

Lists all the sections, and sections change color when worked.

Writes files and summarizes data for log submission.

Provides many current statistics.

Interfaces with most Elecraft, Icom, Kenwood and Yaesu radios.

Provides DX spotting.

Computer generated CW via your serial port or USB to serial adapter (including RTS or DTR com line options ) or Winkeyer and play wave files via your sound card.

Performs Super Check Partial.

Interfaces with many digital programs and other software via API including Fldigi, JTAlert, PSK Express and more!

Fully networkable! You can have as many PCs updating the same log file simultaneously as your LAN will support.

Click here for a revision history of this program.
Jamboree on the Air Log Registration
This program is FREE and fully functional! There is no cost for the Jamboree on the Air Log. Please enjoy it and spread the word!
---
Register all our software at once as a package deal and save hundreds!
N3FJP Software Package - Only $59.99!
N3FJP Software Package includes full registration of all our amateur radio software (more than one hundred programs in all) and our WX Warn weather software, too! Simply install the software from this website whenever you like. This option also includes free registration of any additional amateur radio software that we add to the package, as well as free upgrades to existing programs. There are no annual / maintenance costs of any kind. Simply pay once and you are set with N3FJP Software for life!
This option is a great deal and your best value! To register all the programs individually would cost over $400.00! For more details, click here!

---
Copyright 1997-2023, N3FJP Software - Affirmatech, Inc