Amateur Exam Study Buddy
(System Requirements - Will run in any browser)

Start Amateur Exam Study Buddy Now!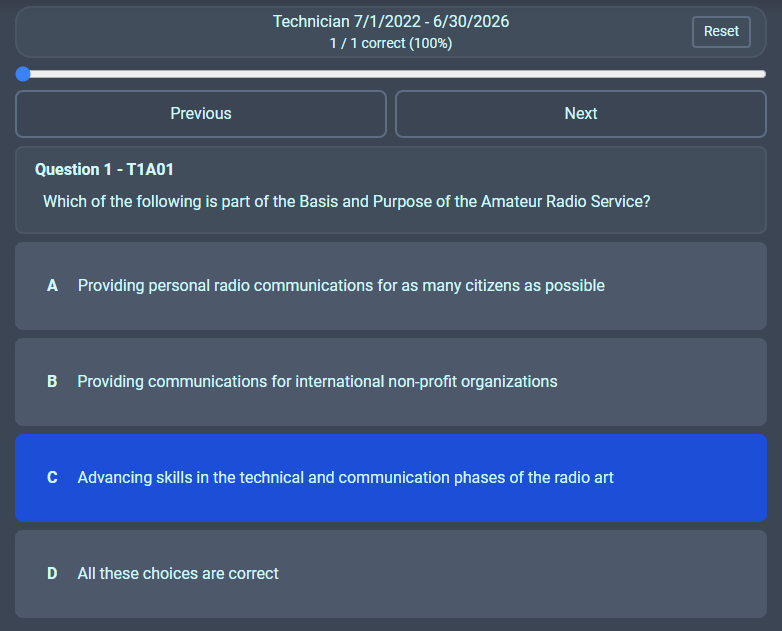 When our sons Chris and Brad were young and started showing interest in Amateur Radio, to help them along with their studies, I wrote a simple program to cycle through all the questions in the Technician question pool. While I was at it, I realized the program might be useful to others as well, so I provided it freely and also included the General and Extra question pools, too. As I type this in December 2022, roughly two decades later, we are still receiving e-mail from folks using the software, reporting our study program has been an integral part of their success in obtaining their Amateur Radio license, as well as upgrading to General and Extra!
Since the original program was written in VB6, which is no longer supported, Chris and I have completely rewritten Amateur Exam Study Buddy! It is incredibly cool to have Chris, who originally used this software to help obtain his license, now take the lead in rewriting it! This new version functions much like the original, but is now a web based tool with a fresh new look, that will run on any browser and even your phone!
Amateur Exam Study Buddy is free! We like to think that Amateur Radio is the gift that keeps on giving and we would like to give the gift of Amateur Exam Study Buddy! Please enjoy it and share it with anyone you know that may be interested in getting their license or upgrading! This site will help newcomers to the hobby obtain their very first license, or help existing hams upgrade to a new one! And more hams on the air gifts us all more potential QSO's and QSL cards on the wall!

---